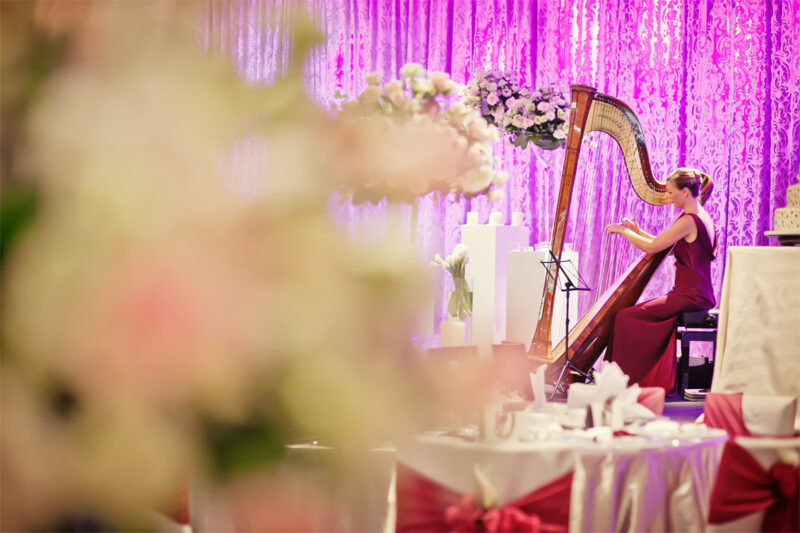 Weddings
The harp is often thought of as the most beautiful and romantic of all musical instruments. Aesthetically stunning, the harp offers an air of relaxed refinement and sophistication to any event. To enter a room and to see and hear a harp is always something rather special. The relaxing and delicate sound of its strings suits any occasion as it is unobtrusive but can also be easily amplified to suit larger events. It is a versatile instrument as it can be played either solo or as part of an ensemble. Also, it can be easily moved from room to room, or even played outdoors.
Eilidh's choice of harps, wide range of repertoire and beautiful selection of dresses enable her to offer a bespoke service for all types of occasions, including themed events and weddings.
Please click here to see Eilidh's extensive list of repertoire.
Events
Recent corporate clients include: Chanel, Mulberry, Emirates, Penfolds, Boffi, Guerlain and Standard Chartered Bank.
Watch the video: Penfolds Ampoule Wine Launch
Eilidh has three beautiful harps: a Golden Salvi Arianna Harp, a Black Camac Electro-Acoustic Harp and a Celtic Harp. The Arianna and Celtic harps are amplified by using a microphone with an extending arm. The Camac Electric harp offers a more evenly amplified sound due to the pick-ups at the bottom of each string and is easily plugged into a direct input box using a 1/4 inch jack. All harps can also be played acoustically. The Arianna has the richest acoustic sound since it is larger. The Camac and Celtic harps are more easily transported since it is a little lighter and smaller.
Eilidh also enjoys performing at community events; to audiences who may not normally have the opportunity to listen to live music or see a harp! Eilidh performed at North Bridge Road Food Centre, Singapore. Click HERE to see the review, photos and video. The audience reactions were FANTASTIC and make these types of performances really rewarding!